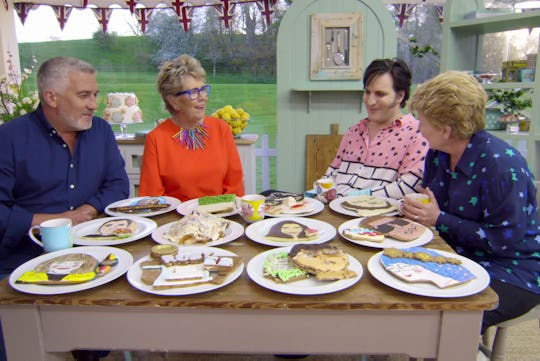 Netflix
Twitter Can't Wait For 'The Great British Baking Show' Season 6 Premiere
With a borderline alarming prescience, Netflix somehow intuited that what Americans would need most the week of the 2018 midterm elections was fresh seasons of The Great British Baking Show. Along with an all-new collection called The Great British Baking Show: The Beginnings, a new season also drops Nov. 9, and the realest Great British Baking Show tweets ahead of the Season 6 premiere on Netflix prove just how desperately fans need it.
Because the show is a British import (across the pond, it's known as The Great British Bake-Off), the "collections" that appear on Netflix are actually past seasons of the show, and they drop slightly out of order. The British series contains 9 seasons, and Season 9 is coming to Netflix on Nov. 9 as "Collection 6." Collection 1 was the original show's fifth season, Collection 2 was Season 4, Collection 3 was Season 6, Collection 4 was Season 7, and Collection 5 was Season 8. The first two seasons of the original series never aired on Netflix, but Season 3 is currently available as The Great British Baking Show: The Beginnings, which dropped over the weekend.
Collection 6 originally aired in The UK from the end of August to the end of October 2018, so perform all your GBBO-related Google searches judiciously if you don't want to be spoiled — the winner of the series has been known for about a week. But in the meantime, here are some super-fan tweets to whet your appetite.