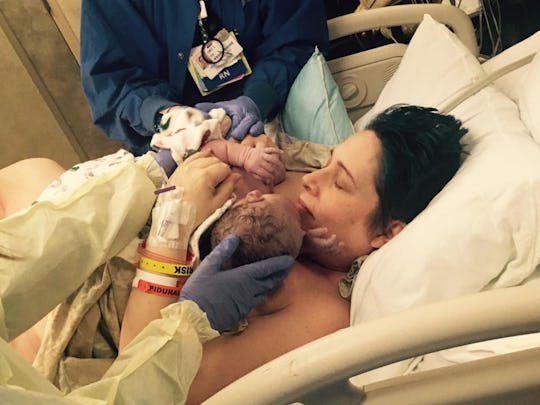 Courtesy of Steph Montgomery
11 Questions I Should've Asked My OB-GYN Before My Vaginal Birth
Before I had my first baby I was nothing short of nervous. In order to prepare to the best of my ability I took classes, wrote a detailed birth plan, and armed myself with as much knowledge as a soon-to-be mom could handle. As a result, I truly thought I knew everything there was to know about vaginal deliveries. I was wrong. Turns out, there were so many questions I should've asked my OB-GYN before my vaginal birth.
Little did I know, there were a lot of topics my birth class overlooked or downplayed. And, sadly, that very same birth class shamed certain labor and delivery decisions, like getting an epidural. So I had no idea that, when the time came, it would be difficult to advocate for myself when I was experiencing back labor. I also didn't think to ask about scenarios that people don't necessarily plan for, like if your labor doesn't progress or if you need to be induced. I had no idea what to expect after my baby was born, either, like whether I would get a chance to hold my baby immediately after birth, what the hospital's policies were on breastfeeding, and what immediate treatments would be administered to my baby once they were born.
Every provider and every hospital has a different set of rules and protocols to follow when a woman is experiencing childbirth, including who is and isn't allowed in the room during labor and delivery, if the laboring mom-to-be can move freely during labor, and what positions a pregnant woman can labor in. So while I thought I was as prepared as possible, it didn't take me long to realize that there are a set of questions every pregnant woman should ask her OB-GYN to prepare for vaginal birth... and I didn't ask them soon enough.