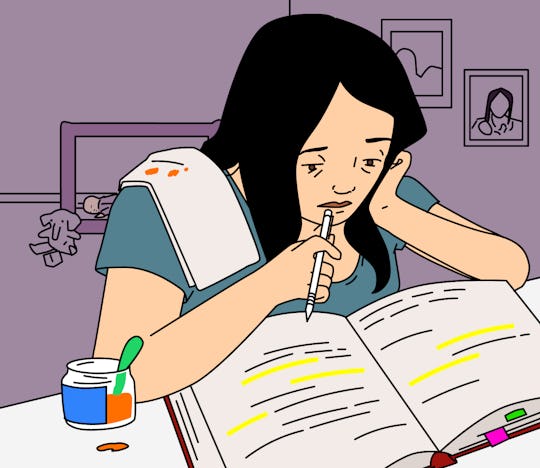 Allison Gore/Romper
11 Student Moms Share Their Hacks For Beating Exhaustion (Because They Would Know)
Remember how tired you were when you were in school? Whether it was high school, college, grad school or even middle school (because hormones are relentless), getting your knowledge on can be draining. Now, imagine going to school and being a parent. Yeah, there are a boatload of additional struggles only student moms can understand.
Hopefully, if you're a student mom, you are being supported in your brave decision to take on the world of academia while simultaneously taking on the world of diapers and nap times. Whether you have a helpful partner, a supportive friend, or you have an amazing professor who will babysit while you take a test, going to school while you're raising a kid(s) means putting a lot of responsibility on your shoulders, and hey, those shoulders should be padded with (at least a little) help.
But even if every available hand in the world is willing to reach out and help you, going to school while you're a parent is just exhausting: You can't sleep when baby sleeps because that's when you can work on an assignment; You can't go to bed when the rest of your obligations have been met, because you need to study or research or both; You can't fit your school schedule into just your life, because you're not worried about just your life anymore.
All of this is why I asked student moms to share their tips on fighting the mind-numbing exhaustion that can accompany motherhood and memorizing facts for your latest midterm. Because honestly, if all moms know a thing or two about being tired and overly taxed on their time, moms who are also students are, like, actual experts on the subject. So let's take it from those that know first-hand what it's like to be called "mom" and "student" on the same day. It turns out, there are ways to keep your head in a book, instead of sleeping on it.