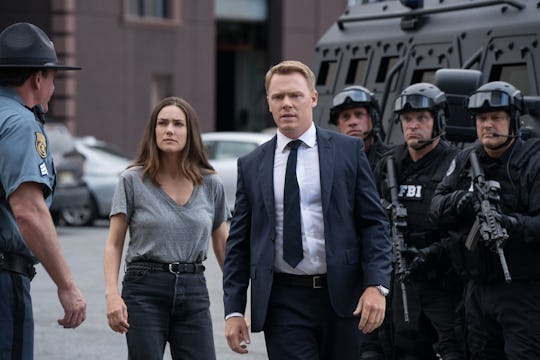 Virginia Sherwood/NBC
Theories For 'The Blacklist' Season 6 To Get You Thinking
The dust has barely settled on the reveal of Red's identity at the end of The Blacklist Season 5, but Season 6 is off to a fast-paced start. Liz turned in Red, who still has no idea that Liz knows his true identity and he now faces life in prison because of his decades on the run. It's a tangled web with tons of layers, but the theories for The Blacklist Season 6 are piling up. At the end of the second part of the Season 6 premiere, Red asked Liz to find out who in his inner circle sold him out, not knowing that it was she who finally turned him in with all the information she'd gathered on him. Like I said, it's a big mess at this point, but if this is how the season begins, I can't imagine how it's all going to play out.
There are a lot of unanswered questions right now that I figure will be answered by the end of the season. Who has time to wait for those answers, though, when there are already fan theories floating around the internet to tide you over? Liz found out that the bones in the duffel bag belonged to the real Reddington, but that doesn't necessarily mean that Red isn't somehow who he says he is. And if this means she's not Red's daughter, do they still have some kind of connection?
The theories about The Blacklist Season 6 do their best to answer all of the most pressing questions. The most important one, though — did Red get to eat the pretzel before the cops took him down at the pretzel cart?