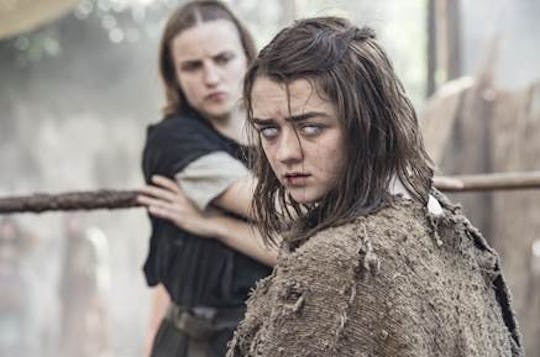 Macall B. Polay/HBO
11 Things 'Game Of Thrones' Kids Do That No Normal Kids Do
The other day, my son was complaining because I forgot to wash the shirt he wanted to wear to school. I'm sure it felt like a big deal to him and full disclosure, the shirt makes him look extra handsome, but part of me was like, "Seriously? You're complaining about shirts? Arya Stark is — spoilers ahead for Game of Thrones Season 5 — blind, kid! Learn to deal, why don't you?" That's the thing about growing up in Westeros, there are so many things Game of Thrones kids do that no normal kid would ever do. Their life is a constant struggle without all the playdates and presents our soft kids are taking for granted. Like, when was the last time we saw little Rickon Stark playing on the swings or getting dropped off to Kindermusic? When was the last time we saw Rickon Stark at all, come to think of it?
Childhood is short-lived on Game of Thrones, and I don't even think they really celebrate birthdays unless you're the boy King Joffrey. In fact, one of the only scenes I remember where kids got to sort of act like kids was the very first episode at Winterfell, the last time we saw the Stark family all together. Admittedly, even then they were shooting off dangerous weapons and Bran was forced to watch his father kill a member of the Night's Watch who had fled The Wall, but mostly it seemed alright.
Hold this list of things the Game of Thrones kids have had to do close to your hearts, moms and dads. So that the next time one of your kids complains because you bought the wrong flavor of ice cream, you can say, "Well, you could be like Bran Stark, did you ever think about that?"