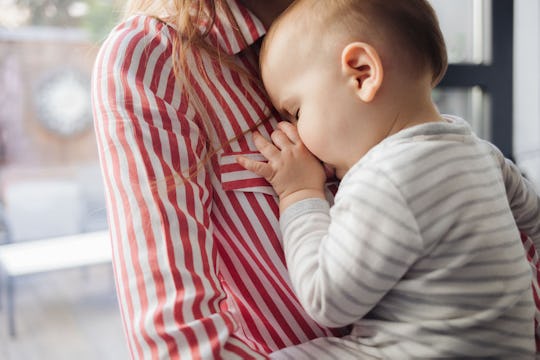 Lumina/Stocksy
These Are The Things I Wish Someone Did For Me When I Was Sleep Training My Baby
Parenting is full of annoying but extremely necessary tasks. Diapering. Feeding (literally any version of feeding is a pain in the ass at some point). Cleaning. And, of course, sleep training. Sleep training is the worst (or, like, up there) and there are things I wish someone did for me when I was sleep training my baby because there's so much I needed on every level — physical, emotional, and mental.
Sleep training goes differently for everyone. There's no one sleep training method or story. Both my kids shared my bed until my husband and I stopped loving it and started resenting it and they were sent to their crib, which actually was a pretty smooth transition, all things considered. (We'd be setting them down in the crib at the beginning of the night anyway, so it wasn't anything too wildly different for them.) When they were about 15 months, we began sleep training, the dreaded and controversial "cry-it-out" method. Basically we made sure all their needs were taken care of and then, when they cried we just... let them. It completely sucked but it worked — the adage "it's harder on you than it is on them" comes to mind.
Here are just some of the things I wish someone had done for me that would have made the whole emotionally messy process a wee bit more manageable.