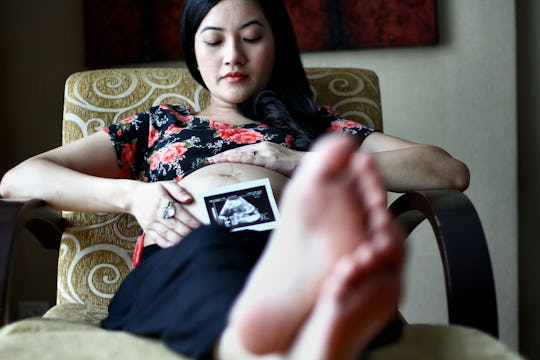 11 Things Someone Who's Having A High-Risk Pregnancy Would Love To Hear You Say
Every expectant parent wishes for two seemingly simple things: an easy pregnancy and a healthy child at the end of it. But what happens when you're suddenly faced with a slew of complications? How do you deal with the possibility that your baby might come too soon, or get sick, or is sick already? No one wants their pregnancy to fall under the category of "high-risk", but according to the University of California San Francisco, 6-8% of all pregnancies are labeled as such. Reasons for being categorized as having a high-risk pregnancy vary and include everything from health problems in the mother (diabetes, autoimmune disease, PCOS, and previous miscarriages or pre-term labor, among other conditions), to lifestyle (alcohol, cigarette, and/or drug use), to age (being over 35 for your first pregnancy), and pregnancy-related issues such as pre-eclampsia and gestational diabetes. 
For my second pregnancy, I was immediately labeled high-risk due to the loss of my daughter after I went into pre-term labor at 22 weeks. While I was excited at the prospect of having another baby, I was also beyond stressed at the thought of another premature birth, and worse, at another loss. Being high-risk for me meant getting weekly ultrasounds and weekly hormone shots, eventually getting a cervical cerclage, and being monitored constantly. For a time, it also meant being on bed rest. It was an especially difficult time, and one which many high-risk mamas can relate to.
If you know a someone that is currently experiencing a high-risk pregnancy (whether it's your spouse or your best friend or your sibling or your in-law), there are plenty of ways to be there for them, to show support, to lighten the burden of their difficult experience just a little bit.