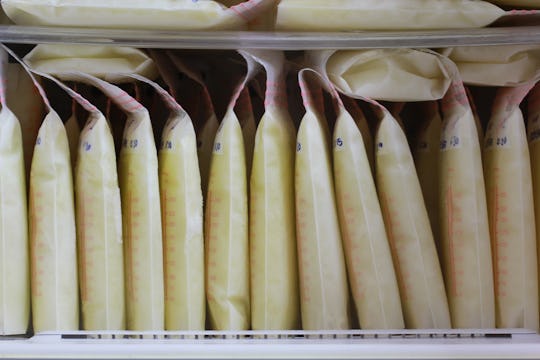 Monthira Yodtiwong/Shutterstock
11 Things That Can Go Wrong When You Thaw Breast Milk
Building up a breast milk stash is a favorite for many pumping moms because it makes it easy to always have milk on hand for your little one, whether you're leaving them with a sitter or taking them to daycare each day. But just like breastfeeding, preparing bottles of breast milk isn't always easy, especially with all the things that can go wrong when you thaw breast milk.
I both breastfed and pumped for my daughter, but I always found preparing her bottles to be either totally confusing or a total pain. Did I have to warm it up? How warm did it need to be? How warm was my milk when it came directly from my breast? Could I thaw it in the microwave? Could I thaw it in a bottle? How long did I have until it went bad? What if she didn't drink it all? Could I save it? Oh forget it, I'm just never going to leave her alone for more than two hours so she can always have my boobs.
In hindsight, I was a little bit of a panicky mom. But there actually are 11 things that can go wrong when you thaw breast milk, especially if you aren't sure of the regulations and guidelines. But hey, knowledge is power, right? So if you have to delve into your freezer stash at any point, here are 11 things to keep in mind when you're thawing your liquid gold.