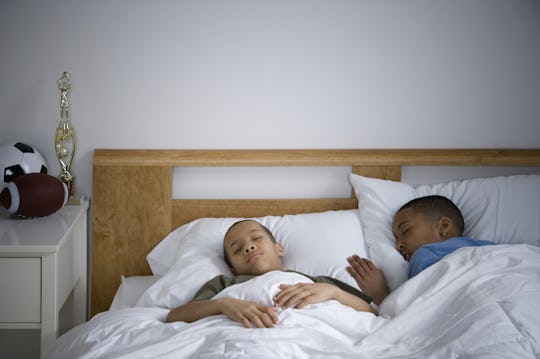 bst2012/Fotolia
11 Things To Do At Night To Help Your Child Get A Good Night's Sleep
Sleep is a huge topic for any parent, but it's not just about making sure you're not exhausted everyday. It's also incredibly important to make sure you're doing everything you can at night to help your child get a good night's sleep. According to the National Sleep Foundation, sleep directly impacts your child's mental and physical development and by age 2, your child has spent 40 percent of their childhood sleeping.
No matter how old your child is, you're probably struggled at some point to not only make sure they fall asleep, but that they stay asleep. The National Sleep Foundation noted that missing your child's required amount of sleep by even 30 minutes to an hour can have an impact on them and their day-to-day activities. Children who are sleepy don't always look like they're ready to crawl into bed. Instead, they wind back up, becoming hyper, energized, and bouncing off the walls. If you've ever noticed that you're ready to crawl into your own bed and your child looks like they're ready to party, it's because they are in fact tired.
So to make sure your little ones are getting enough sleep, try out these 11 things to do at night. They don't require a lot of extra work or products, and you can do them all in the hour or so leading up to bedtime. They will help your children fall asleep, stay asleep, and make sure they're getting enough rest so they can continue to grow, develop, and wear you out all day long.