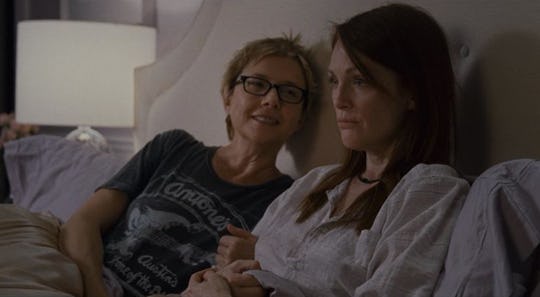 Focus Features
11 Things Your Partner Can Say That Will Get You Instantly In The Mood
Parenthood is not known for its sex appeal and when it's 3 a.m., the baby needs to be fed, your toddler's wet the bed, and your pre-schooler had a nightmare, the last thing on your mind is getting it on with your partner once you're back in bed. But when else are you supposed to make the time? Between kids, work, school, soccer practices, chores, and the rest of life, it's easy to lose all your desire for sex. But intimacy with your SO is a must, and there are certain things your partner can say to get you in the mood.
Obviously you can get yourself in the mood without your partner's lines, but isn't it nice to take one thing off of your to-do list and hand it to someone else? Your priority list is already packed, and even though you want to have sex, you can't be bothered to put yourself in the mood for it.
Look, I get it. I'm an empowered, sex-positive woman, and I still want my partner to whisper things in my ear to turn me on rather than doing it myself. Literally, I have enough to worry about. Now I have to get myself horny, too?
Nope. You don't. Send your partner these 11 things so they know what to say to instantly put you in the mood. Maybe they'll try one tonight or maybe you're both still too exhausted from your kids' midnight requests, but it never hurts to have a list handy so that you two can get handsy. (You're welcome.)