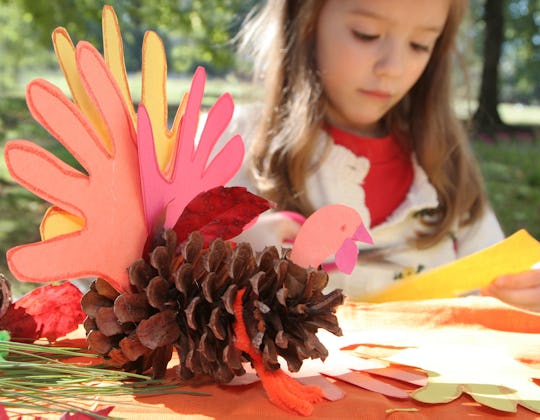 Terrie L. Zeller/Shutterstock
11 Ways To Keep Kids Busy While You Cook Thanksgiving Dinner, Bc You're *Busy*
Thanksgiving is mere hours away, and there's lots left to do: Clean the house; go food shopping; extend the dining-room table; run out yet again because you forgot the onions or thyme or butter. But for moms, the biggest challenge of the holiday has nothing to do with keeping the turkey moist or preventing the pie crust from burning. Nope; it's finding ways to keep the kids busy while you cook Thanksgiving dinner.
Of course, you love your kids; really, you do. And you want them to have all kinds of wonderful holiday memories, like meeting out-of-town relatives, watching the Macy's Thanksgiving Day Parade for the first time, or going for an after-dinner walk in the brisk autumn air. But you can't enjoy any of those Lifetime movie moments if you don't finish cooking Thanksgiving dinner in time. And you can't finish the cooking if you're being interrupted every five minutes by sighs of "I'm booooored" or the shrieks of a sibling war. Nor do you really want to take the easy way out by planting your children in front of the TV and letting them OD on PAW Patrol or Gravity Falls.
A little advance planning (and, occasionally, a shopping trip for supplies) can help keep those crucial pre-dinner hours from becoming a chore for both you and the kids. Here, some suggestions for ways to prevent boredom and fights so you can get your work done. Because at Thanksgiving, the only thing that should be melting down is the whipped cream on top of the hot apple pie.