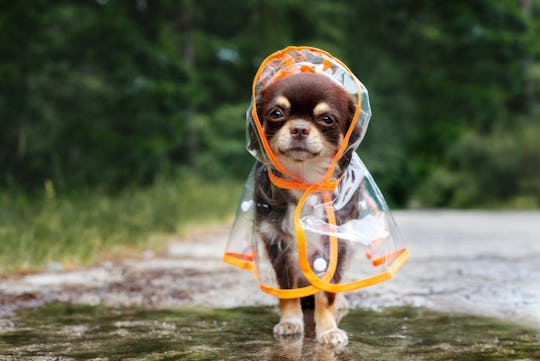 otsphoto/Shutterstock
These April-Inspired Dog Names Are For All The Jazzy, Pizzazz-y Pups Out There
Spring might technically start in March, but everyone knows that the new season doesn't really take hold until April. The winter chill is finally, finally beginning to let go, the Easter bunny typically makes a visit, and the trees are budding at last... that's what makes April a perfect month to to add a new furry member to your family. So what are some dog names for April dogs that you're going to love all year round?
Just the word "April" is a popular enough name (not to mention super pretty), but since you're naming a pet and not a person, you might as well get a little bit more creative. The good news is, there's so much going on in April that you'll find more inspiration than you know what to do with. The month of April has been set aside to celebrate such diverse interests as jazz and poetry, with specific days honoring everything from trees to the entire planet.
April is oftentimes the month that Easter is observed (which is the case this year). It's also oftentimes the month when your kid will put on his jacket for the last time until next October. All of these factors mean it's truly an ideal month to bring home a new pup: Warmer weather and higher spirits should finally stop conspiring to keep everybody indoors forever. Read on for all the doggo name inspo you'll need this month, and more.