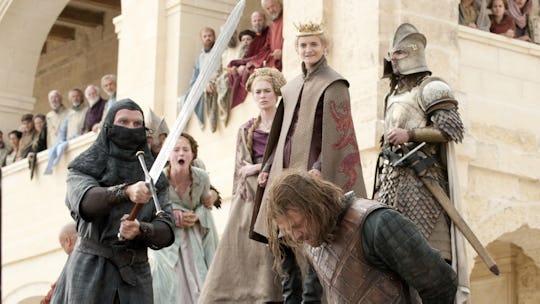 HBO
12 Brutal 'Game Of Thrones' Moments That Are Almost Impossible For Any Parent To Watch
I have been a longtime fan of A Song of Ice and Fire, which my husband introduced me to when we met, 10 years ago. When the books became the HBO series, I was thrilled and blown away by how well it was adapted for television. Now that I'm a parent, though, I'm realizing that some of the most brutal Game of Thrones moments involve horrible things happening to children or their parents. It's the stuff of nightmares at times.
George R. R. Martin has done his best to explain why so much brutality needs to exist in this series, and far be it from me to question a writer on the world he created. It goes without saying, though, that such brutality can be hard for some people to endure watching, all in the name of entertainment. I mean, who wants to put themselves in the position of imagining watching your own child being murdered (because we kind of all go there, don't we?)
Anyway, despite this shortcoming (in my opinion), I continue to be a fan of the series, and eagerly await Season 6, and all the surprises it will bring. I can only hope there will be fewer moments that have the mother in me cowering in the corner with her eyes covered.