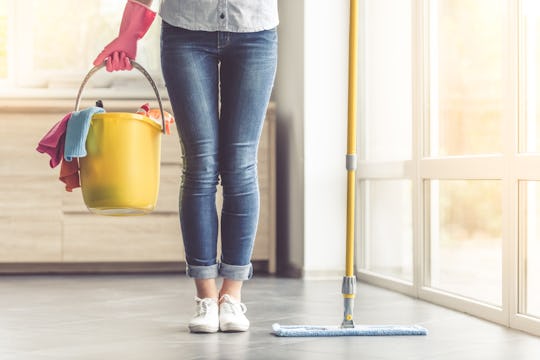 VGstockstudio
12 Cleaning Instagram Accounts To Follow If You Need Some Motivation
I will be the first to admit that I need all of the help I can get when it comes to cleaning my home. But who would have thought that cleaning Instagram accounts would be the place to find motivation? Although I am somewhat organized, summoning the strength to deep clean my kids' closets and swipe the dust bunnies from the top of the ceiling fans only happens once in a blue moon. I know I'm not alone here when I say that sometimes, I just need a little bit of inspiration. That's where these cleaning Instagrams to follow come in handy.
These accounts are full of gorgeous shots of sparkling clean homes with a place for everything and everything in its place. While that may not be what your actual home looks like on a regular basis, having pretty pictures to look at and inspire you to tackle some of the nagging cleaning tasks you have avoided for far too long surely can't hurt. It's good to have goals, people. And if one of your goals is an effortlessly clean and orderly home, these 12 cleaning Instagrams can help get you there.
In addition to following these inspirational cleaning accounts on Instagrams, searching hashtags like #cleaninghacks and #cleaningmotivation will yield even more posts to provide plenty of encouragement for all of your home cleaning adventures.