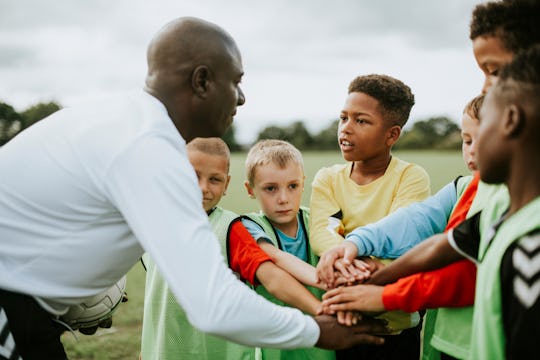 Rawpixel/Shutterstock
12 Gifts For Your Kid's Coach, Bc You Seriously Have No Idea What To Get Them
'Tis the season for remembering the people who enrich and improve our families' lives. And if your kids are into sports, their coach(es) ideally should be on that list. But what kind of holiday gift can you give to a coach? It's not like there's a "Coaches" section in Target in between Home Decor and Groceries. Still, if you use a little imagination (or refer to this list), you should be able to find something that will properly express your thanks.
You have to give coaches credit: They're the ones who log in tons of after-school and weekend hours to make sure our kids perform at their best. They're willing to stand outside in bitter cold and broiling heat, or on the sidelines of noisy, stuffy gyms. They have to be patient and supportive, yet still tough when they have to be. They teach fundamentals, encourage teamwork, dry tears, and wrap strained muscles. They face the wrath of hyper-competitive dads and moms, and sometimes have to remind the parents to chill out and let their kids have fun. Oh, yeah, and most of the time, coaches don't even get paid for all of this. That alone deserves at least a little acknowledgement.
Before you get out your credit card, however, make sure you know if it's okay to buy your coach a present. The MomsTeam website cautioned that some youth leagues have a "no-gift" policy, to avoid any awkwardness for families who are in a financial crunch. You'll also want to find out whether the parents on your child's team typically buy individual small gifts, or chip in for a larger gift from the group. Either way, here are a few great choices that will show your appreciation.