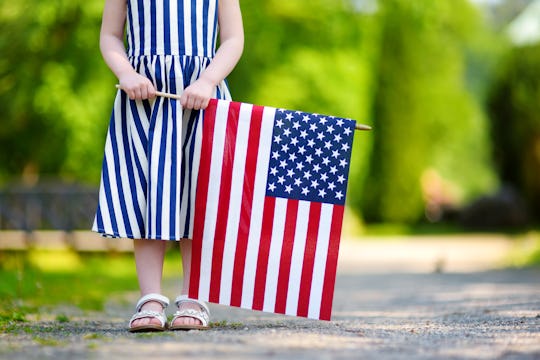 MNStudio/Shutterstock
12 Notes Of Gratitude To Share With All Who've Served This Memorial Day
As much as we may enjoy Memorial Day as part of a weekend that heralds the start of summer fun, it's still important to remember that the holiday is about remembering those who made the ultimate sacrifice in the service of our country. In addition to displaying a flag or putting flowers on the graves of soldiers killed in action, one of the ways you can pay an appropriate tribute is by writing a thank-you letter to the military men and women who have served America with honor.
If you know a veteran personally, sending them a note, card, or package is a loving gesture that will be appreciated more than they can say. If you don't, you can still express your thanks through a letter or email sent through an organization serving the troops. The USO's website has a link for sending messages of support; at last count, nearly 3.5 million sentiments had been delivered. Operation Gratitude, an organization that delivers mail and care packages to active and retired service personnel, has some helpful recommendations for those who want to send a thank-you note. Along with your expressions of gratitude, you could add a few details about yourself and your family. Stick to safe topics such as hobbies, food, and sports, and avoid mentioning politics or religion. (Saying you'll pray for them, however, is fine.) If you're sending a letter from a child, don't use their last name and don't include glitter.
There's one sticky question surrounding greetings on this holiday: Is it OK to wish someone "Happy Memorial Day"? Some say absolutely not. As the History Channel noted, the day was established shortly after the Civil War as a time to remember all those who fell in battle (it was originally called "Decoration Day" after the custom of laying flowers on soldiers' graves). But others say differently. Retired Navy pilot Ken Harbaugh wrote an editorial for Observer several years ago arguing the case for including "happy." While it's important to take time to remember the fallen, he said, we shouldn't spend the entire day in mourning. "Mattress discounts and pie-eating contests and the freedom to be happy are all part of what they fought and died for," he concluded.
So use your best judgment when wording your holiday greeting to the troops. But feel free to include one of these sentiments, which pay tribute to those in uniform and recall all that they've done or do in the name of liberty.