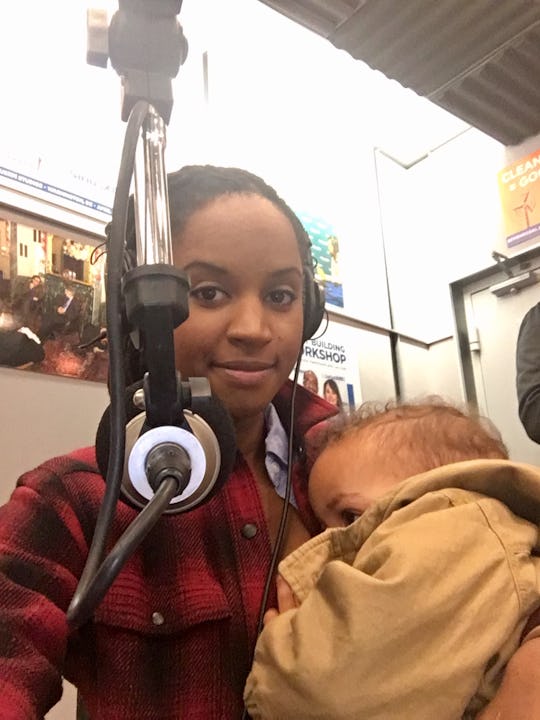 Courtesy of Sabrina Joy Stevens
Places Nursing Moms Should Be Proud To Feed In
Making meals for your family is one of the most loving things we can do, so making those meals with our own bodies is extra special. That's why, while I know that breastfeeding isn't the be-all end-all of early motherhood, I'm still really proud to have done so, and to have nursed in lots of places every breastfeeding mom should be proud to feed in.
As my son and I wind down the breastfeeding phase of our relationship, I have a lot of fond memories of nursing in cool places to look back on. Especially once we mastered nursing while babywearing, we've breastfed everywhere: on top of a mountain, inside a cave, in museums, radio and TV studios, and even inside the U.S. Capitol Building and the West Wing of the White House. I have fond memories of nursing in lots of ordinary places, too: during a perfect summer sunset on my friends' porch swing, on our roof deck, and especially in my favorite chair. Though breastfeeding hasn't always been a walk in the park, there have been plenty of quiet, satisfying moments that have reminded me why I chose to breastfeed in the first place.
It can be hard to feel proud while breastfeeding sometimes, since there are a (thankfully declining) number of people who believe breasts are shameful, and who try to shame moms for using them for their biological purpose. But moms shouldn't feel ashamed to care for our little ones the best way we know how, whether or not that involves breastfeeding. As for breastfeeding moms, we should feel proud to nurse in places like the following, and anywhere else we have a right to be.