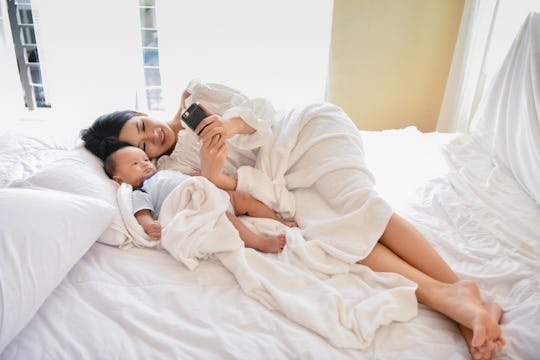 Shutterstock
These 12 Stunning Postpartum Selfies Are An Unfiltered Look At Early Motherhood
When non-parents think of postpartum life, they most likely imagine baby cuddles, midnight feedings, and lots of dirty diapers. Those elements are part of parenting, but there's so much more to the initial days and weeks after giving birth. These postpartum selfies shed light on the reality of life with a newborn: the good, the bad, and everything in between.
There's really no way to fully prepare yourself for the toll birth puts on your body. Postpartum bleeding, leaking breastmilk, and painful bowel movements are just a few of the challenges new moms face, and that's on top of caring for an infant. There's nothing else that challenges you physically and mentally like birth and the months after, yet the harder parts of life with newborn aren't often given much attention. Particularly on social media, people are prone to sharing the "prettier" side of mom life, which is why it's so refreshing to see photos where women don't look perfectly coiffed as they care for their children.
Moms, like all people, contain multitudes, and motherhood just adds more layers. These photos highlight the new dimensions motherhood brings to their lives, so read on to get an idea of everything moms can be.