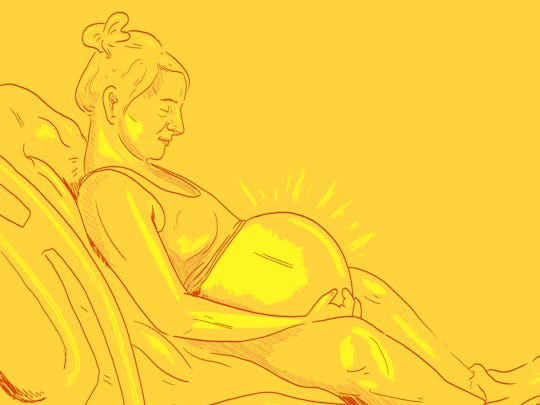 Claire Joines/Romper
12 Things About Giving Birth That You Never Realized You Might Miss
Birth is notorious for being terrifying, painful, and something no one actually misses. Like, ever. But once the dust settles and a mom becomes familiar and comfortable with her new life and her newborn babe, it's not uncommon for her to find herself thinking, "I miss labor and delivery." Whether you had a home birth, a medicated birth in a hospital, a scheduled c-section, a water birth at a birthing center, or some mix of any of the above, there are so many unique, wonderful, and memorable moments a woman experiences during labor and delivery that are, well, hard to not wax nostalgic about.
Giving birth can teach you so many different things; about yourself, your body, and your character. It can give you magical moments with your partner — moments that cannot be replicated in any other setting — and it can introduce new and helpful people into your life whom you'll never, ever forget. Can birth be tremendously scary and horrifically painful? Sure. But even in the scariest, most emotional and taxing of moments, there's wonder and happiness and so much joy you simply don't know what to do with yourself. That is, perhaps, what makes labor and delivery so difficult to describe to those who haven't experienced it before: It's an overwhelming tapestry of pain and delight.
So if you find yourself thinking back on your birthing experience with this odd sense of longing, know that you're not alone. Here are 12 things you never thought you'd miss about childbirth, because life is never just good or just bad. It's always a wonderful combination of both.