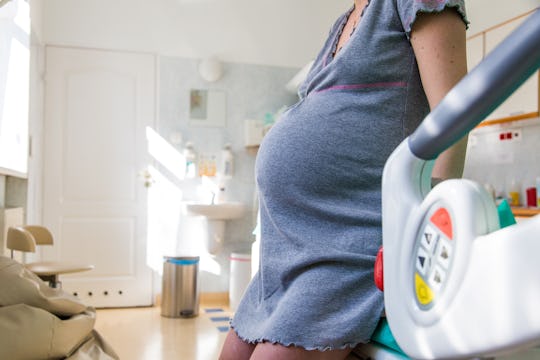 Fotolia
12 Things Every New Mom Thinks During Labor That Definitely Don't Make You A Bad Mom
Not only does the intense physical strain of labor do incredible things to your body, it does some ridiculous things to your mind. It really is an otherworldly experience, that can turn a woman into an entirely different person. I, for one, became a expletive-wielding demon lady when I was in labor, up until I caved after 10 hours of drug-free contractions and asked for an epidural. In that time, and even after my epidural kicked in, I thought the things every new mom thinks during labor; the things that sound horrible in your mind and definitely out loud but, under no circumstances whatsoever, actually make you a horrible mom. I mean, you're bringing another human being into the world. You're allowed to think whatever the hell you want.
I tried my hand at a drug-free birth, but pregnancy and labor complications took that choice away from me after I tried my hand at a birthing ball, a lukewarm bath, walking the halls of the labor and delivery wing, and standing for hours on end while my partner rocked back and forth with me. I had an unconventional pregnancy, which is to say I was pregnant with twins but, sadly, lost one at 19 weeks. The deceased twin remained inside of my body, while my surviving twin continued to grow. The two made labor and delivery difficult, and the result was me waving the white flag and asking for every drug known to man, forgoing my plan of a drug-free labor an delivery for relief and rest. It also resulting in me thinking and saying some hilariously horrific things that, to this day, my partner doesn't allow me to forget (as if I could).
I had it in my head that I needed to view labor and delivery as this wonderful, amazing experience where I could be one with my body and mother earth and, well, you get the picture. I didn't think of labor and delivery that way, at all, when I was actually experiencing it though, and in no way did my thoughts between and during contractions make me a bad mother. No, it just made me a normal human being who was in a lot of pain and trying to get through it by any means necessary.
So, if you were like me and thought some crazy things when you in the middle of labor, have no fear. You're not a bad mom for any of those thoughts, you're just a great mom who was hurting so damn bad, her mind went to some crazy places.