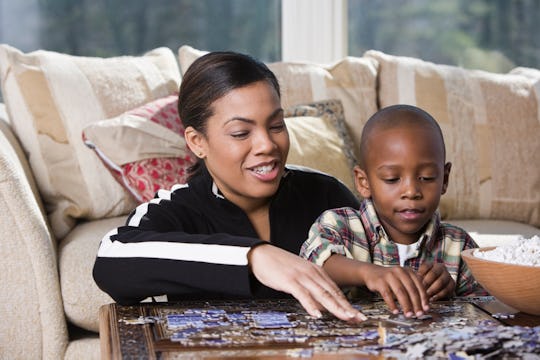 Jupiterimages/Stockbyte/Getty Images
12 Moms In Quarantine Want You To Know That You're Not Alone
I've made a decision that climbing into bed every night and wondering how I even made it through the day for a whopping three seconds before I pass out counts as a bedtime routine. Guys, let's just say that doing the work-at-home/distance learning dance while living in this upside down world has me questioning my every move. Fortunately, there is no better medicine for that self-doubt than encouragement from other moms in quarantine, which, also fortunately, people are offering up a lot.
To get you even more of it this Mother's Day, we asked 2000 moms what they want to say to other moms who are either essential workers braving the pandemic every day to keep us all fed and safe, or stuck inside with small people who sometimes paint themselves. As part of a survey Romper conducted in April in partnership with the Clinton Foundation's early learning initiative, Too Small to Fail, to ask moms how they're weathering this storm, respondents offered up encouraging words for other moms. We've included 12 of our favorite replies below.
Spending every waking moment with your kids can feel like a gift or an endless feat of multitasking, depending on what number meltdown you're on, but when you zoom out, isn't that how it always is — the good with the bad. This pandemic has played games with all of our perspectives, making our worlds feel smaller than ever in some ways, but it has also created more connection and support right when we need it most. Happy Mother's Day.