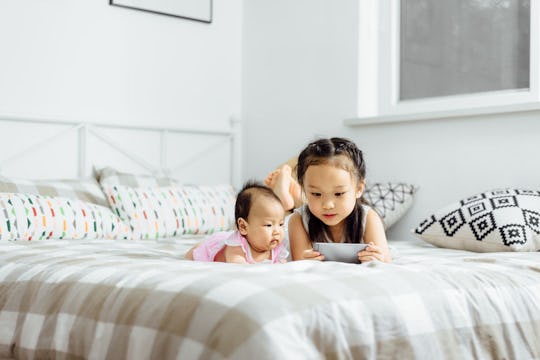 MaaHoo Studio/Stocksy
Here Are 12 Amazing Things Your Kid Learns From Their Siblings
Oh, the joys of having multiple children. The incessant fighting over the silliest of circumstances, like who has more Cheerios in their bowl, or who got into their car seat first. Sometimes it might seem like all your kid learns from their siblings is how to have petty arguments and bicker nonstop. And kicking. Lots and lots of kicking.
But then, you'll see them interacting in a way that will literally stop you in your tracks and melt your heart. One time, I witnessed my four year-old teaching her two year-old brother how to sing the ABC song, and I think I imploded from happiness and adoration for these two beautiful babies who, just moments before, had been trying to topple each other out of their seats. "The relationship between siblings is complex, and offers an opportunity to influence all aspects of development, such as physical, cognitive, and social/emotional," says Dr. Allison Buskirk-Cohen, the Chair of the Psychology Department at Delaware Valley University. Which might explain that love them one minute, try to off them the next rollercoaster that defines the sibling experience.
So whether your child is learning Mortal Kombat moves from an older brother, or learning how to do a duck lip selfie with her big sister, there are many opportunities for your kiddos to get a crash course in life — and love — from their siblings. Here's what else they might pick up along the way.