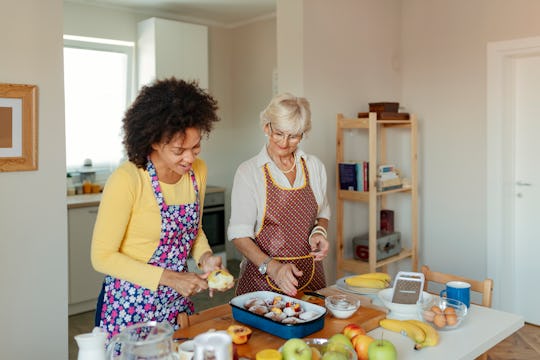 PredragImages/E+/Getty Images
Pimento Cheese Cookies & 11 Other Unique Recipes To Try For Nat'l Cookie Day
Not that you need an excuse to eat sweets any day of the year, but Dec. 4 is National Cookie Day, and I am here for it. The most obvious (and delicious) way to celebrate is by baking, which may get you searching for some unique cookie recipes. Because who says snickerdoodles are where cookie innovation has to end?
Every year, National Cookie Day reminds bakers around the country to preheat their ovens and enjoy some holiday baking. It's the perfect day to pop a few dozen dough balls onto their cookie sheets and prep for upcoming potlucks, cookie exchanges, and get-togethers. It's also a great day to head out in search of free goodies. Nationwide chains like Great American Cookie Company and Mrs. Fields are giving out free cookies with a small purchase or mobile app signup. Others, like Insomnia Cookies, are giving them away, no questions asked. In any case, it's worth a drive to your local mall's food court to see what your cookie dealer is offering.
Basic chocolate chip is a classic, of course, but these cookie recipes are living in 2030. Not only do they combine interesting flavors and multiple desserts into one handheld cookie, but they'll be fan favorites during the holidays and throughout the New Year.