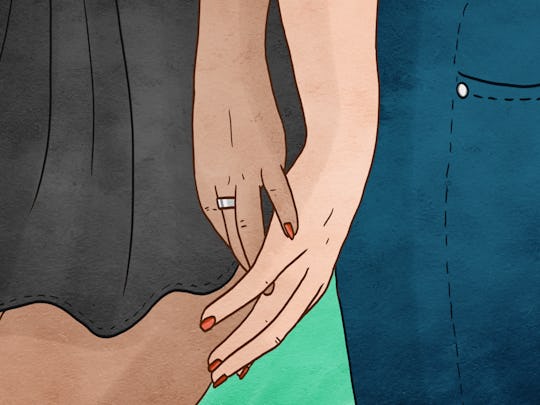 Claire Joines/Romper
12 Weirdest Things That Most People Experience During Pregnancy Sex
Remember when you were pregnant and so intent about exerting that bomb-ass pregnancy sexuality, even with a growing bump that was increasingly in your way? No doubt you also went through a period of non-stop worry about the dangers of having sex while pregnant. I mean, it's totally normal, because what expectant mom isn't driving herself crazy with the Google searches and mind games she's playing with herself? But in reality, sex while you're pregnant is totally safe and you should count yourself lucky if you have the opportunity to have tons of it.
But along with all of that awesome, uninhibited pregnancy sex comes along the weirdness that we all experience at some point. Some of the weird is good, don't get me wrong, like being insanely turned on at the drop of a hat, but there's also the weird that is just that...strange. Have you ever had a baby kick you from inside your stomach the second you start to make any loud sex sounds? Yeah, then you know all about that particular brand of weird.
I'd be lying if I said that I was just a hella round, horny pregnant person during my whole pregnancy, because heartburn and acid reflux make it kind of impossible to enjoy almost anything. In fact, plenty of women find that the weirdest parts of pregnancy sex for them involve the sudden inability to want sex at all, even in the midst of what may have started out as a pretty hot session. Being exhausted from growing another human being inside of you does not make for much enthusiasm about sex.
The weirdest moments of pregnancy sex have nothing to do with the dangers of having sex while pregnant (spoiler: there really aren't any, as long as your doctor or midwife says you're down to clown), and are seriously more common than you'd think, though. Every pregnancy is different, but our bodies all go through a lot of the same odd shit when it comes to getting down: