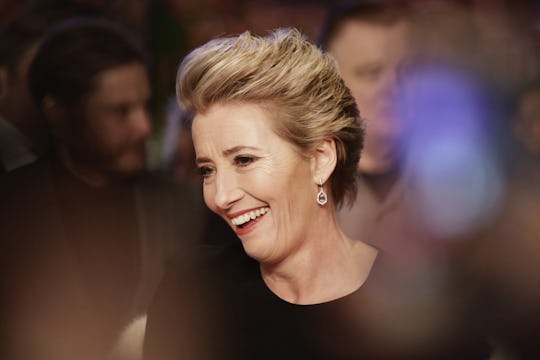 Vittorio Zunino Celotto/Getty Images Entertainment/Getty Images
13 Actors You Totally Forgot Were In The 'Harry Potter' Movies Until Now
It's incredibly hard to believe that the first movie of the Harry Potter series, Harry Potter and the Sorcerer's Stone, is turning 15 this year. I mean it can basically drive a car and stay out until 10 p.m.. But what's even more unbelievable is that seven more movies followed, the last one being released in 2011. So really, with a series that long, it's no wonder that there are actors you forgot were in Harry Potter.
Obviously, the major stars, you can list off with no problem. Daniel Radcliffe, Rupert Grint, Emma Watson. And even fan favorites, like Gary Oldman as Sirius Black and Robbie Coltrane as Hagrid are easy to remember. But what about the professors you saw sporadically through the series? Or the Gryffindors just starting out in the film industry that are now starring on prime time dramas? And let's be real, some actors played their character so well that you barely recognized them.
Harry Potter has been such a huge part of my life, that I feel like I know most of these characters as well as my own family. I can tell you all about the problems that Dean and Ginny had when they were in a relationship together, I know what haunts Professor Slughorn the most, and I know things about Professor Trelawney that even she doesn't know. But the actors that played those characters? Well, I forget them because they embodied their roles so well. But it's time to remind yourself of these 13 actors you forgot were in Harry Potter and give them a round of applause for bringing the magic to life.
1. Alfred Enoch (Dean Thomas)
Alberto E. Rodriguez/Getty Images Entertainment/Getty Images
He may not have been a great match for Ginny Weasley, but Dean Thomas was still a top-notch Gryffindor. And his role was brought to life by Alfred Enoch, who you should recognize from ABC's How to Get Away with Murder.
2. Robert Pattinson (Cedric Diggory)
Grant Lamos IV/Getty Images Entertainment/Getty Images
He went on to become a sparkly, sullen vampire, but you might have forgotten that before Twilight, Robert Pattinson played the courageous Cedric Diggory, a Hufflepuff killed during the Tri-Wizard Tournament by Lord Voldemort.
3. John Cleese (Nearly Headless Nick)
Danny E. Martindale/Getty Images Entertainment/Getty Images
Everyone loves the ghost of Gryffindor, Nearly Headless Nick, but many forget that he's portrayed by John Cleese, an incredible actor. Not only did he star in the Monty Python movies, as well as the hilarious Fawlty Towers, but younger viewers recognize his voice, particularly his role as The King in Shrek 2.
4. David Tennant (Barty Crouch, Jr.)
Anthony Harvey/Getty Images Entertainment/Getty Images
You Doctor Who fans totally forgot that your boy David Tennant dropped his sonic screwdriver to portray Barty Crouch, Jr. in Harry Potter and the Goblet of Fire didn't you? And if you're catching him in the hit Netflix series Jessica Jones, your mind is equally blown right now.
5. Bill Nighy (Rufus Scrimgeour)
Slaven Vlasic/Getty Images Entertainment/Getty Images
Poor Minister Rufus Scrimgeour doesn't last long in Harry Potter and the Deathly Hallows, but the actor that portrays him is still busy. Bill Nighy has been in a ton of movies according to his IMDB page, but many should recognize him as Davy Jones in Pirates of the Caribbean: At World's End and, of course, as Billy Mack in Love Actually. Oh bugger.
6. Emma Thompson (Sybill Trelawney)
Vittorio Zunino Celotto/Getty Images Entertainment/Getty Images
Remember when I said some actors were unrecognizable as their Harry Potter characters? Emma Thompson is definitely one of them, which is why it's such a "duh!" moment to remember she was in the films as Professor Trelawney.
7. Gemma Jones (Madam Pomfrey)
Tim P. Whitby/Getty Images Entertainment/Getty Images
If you're a Bridget Jones fan (which should be all of you if I'm being honest), you recognize Gemma Jones as Bridget's mother, but did you forget she was Madam Pomfrey? Without her and those mandrakes, the series would've ended with Harry Potter and the Chamber of Secrets.
8. Jim Broadbent (Professor Slughorn)
JUSTIN TALLIS/AFP/Getty Images
Oh hi, Bridget Jones fans. I hope you're still here because I know that you totally forgot Jim Broadbent, Bridget's father, also played Professor Horace Slughorn in the Harry Potter films. You're welcome.
9. Luke Youngblood (Lee Jordan)
Jerod Harris/Getty Images Entertainment/Getty Images
If you were a fan of the show Community, you might recognize this handsome guy as Magnitude. But did you forget that he was Gryffindor and quidditch commentator Lee Jordan?
10. Frank Dillane (Young Tom Riddle)
Frederick M. Brown/Getty Images Entertainment/Getty Images
I'm not even going to lie. My mind was BLOWN when I remember Frank Dillane, the actor that portrayed young Tom Riddle in Harry Potter and the Half-Blood Prince. Yep, that's Nick from Fear the Walking Dead.
11. Shirley Henderson (Moaning Myrtle)
FILIPPO MONTEFORTE/AFP/Getty Images
More Bridget Jones connections! If you remember Jude, Bridget's best friend and Aunt Sophie from Marie Antoinette, then you should also remember Shirly Henderson's portrayal of our favorite Hogwarts ghost — Moaning Myrtle.
12. Dawn French (The Fat Lady)
Chris Jackson/Getty Images Entertainment/Getty Images
Whether you love her in The Vicar of Dibley, Coraline, or French and Saunders, I think we can all agree that Dawn French is amazing. But don't let her role as The Fat Lady portrait from Harry Potter be forgotten!
13. Warwick Davis (Professor Flitwick and Griphook)
Anthony Harvey/Getty Images Entertainment/Getty Images
And finally, another unrecognizable actor that brought the magic to life. How could anyone forget that Warwick Davis not only played our favorite charms professor, Professor Flitwick, but he also played Griphook the goblin in the later films? Serious talent right there, Mr. Davis. Especially as he crosses over into another epic series with his role in Star Wars VII: The Force Awakens.
Anthony Harvey/Getty Images Entertainment/Getty Images