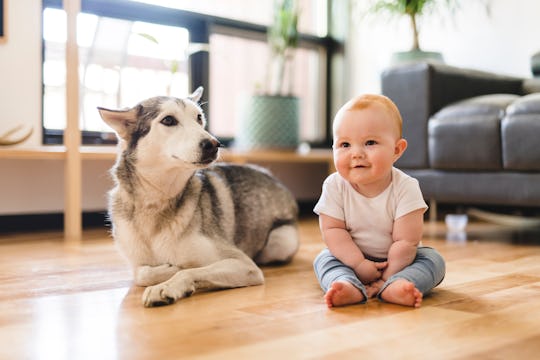 Shutterstock
13 Baby Names Stolen By Dogs In 2019 That Humans Need To Take Back
Sometimes you hear a mother call for her kid at the grocery store and you think, "Great name, saving that for later," and sometimes you hear it at a dog park. Turns out, baby names for dogs were a hot option in 2019, and honestly it's time for parents to take these back from Fido. (Or Bella.)
Rover.com recently revealed that the top 10 most popular names in 2019, for both male and female puppers, would honestly all double as precious names for human babes, too. If you're loving hyped-up baby names from 2019, a la Oliver and Charlotte, maybe one of these canine substitutes will give you a cool alternative to the mainstream options. As Good Housekeeping reported, 20th century and royalty-related nicknames have topped the lists in the last few years. (Even Meghan and Harry opted for Archie, which fits this trend perfectly.) That theme obviously extended into pets last year.
Rover's 2019 report included a survey that actually did reveal pet parents tap their own baby name lists when they bring home a fur child. 55% of pet owners said their pet either already has a human name, or they would consider using a human name. And 25% of them would even consider giving their pupper or kitten a name they had considered for their own child.
But for your own list, here are the baby names dogs straight up stole from humans last year. Let's reclaim them, and give them back all of the Spot, Buster, and Rufus names.