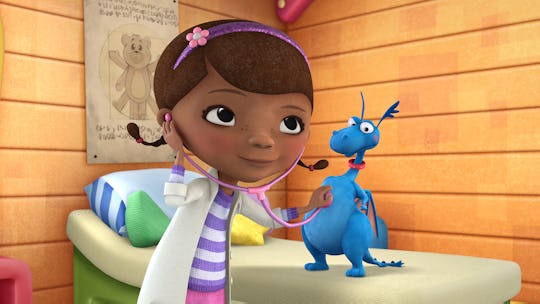 Disney
13 Books To Read If Your Child Loves 'Doc McStuffins' & Will Miss It Terribly
Children's television isn't exactly known for being the most riveting entertainment to watch (unless you're counting classic '90s Nickelodeon ,obviously). But there are a few diamonds in the rough that make you feel good about your kid's screen time. Specifically, shows like Doc McStuffins. With the news that the beloved show could end up cancelled, many parents are scrambling to find similar sources of entertainment for their kids, like books to read if your child loves Doc McStuffins.
Television shows get cancelled all the time, but there's a reason why there's such an uproar over Doc McStuffins's potential cancelation. Not only is the lead character a little girl; she's an African American little girl. Not only is she smart; she's a doctor to all of her stuffed animals and toys. Not only is her mom also a doctor; but she has a stay-at-home dad. It's a show that is breaking racial and gender stereotypes with every episode, and it's needed on television. It's one of the shows I'm eager for my own daughter to watch and sharing those values and lessons is important, regardless if Doc McStuffins stays on Disney Junior or not.
To fill the void for your children who will miss their favorite doctor terribly and to make sure they're still seeing stereotypes broken across the board, here are 13 books to read if your child loves Doc McStuffins.