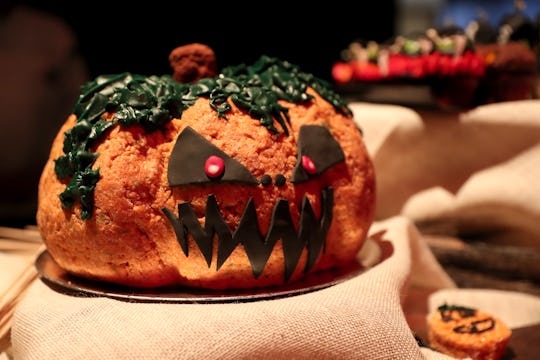 Rich Polk/Getty Images Entertainment/Getty Images
13 Clever Halloween Facebook Statuses To Get You In The Spooky Spirit
As the calendar keeps approaching the spookiest month of the year, everything gets a little extra creepy: even your social media updates. Posting some Halloween Facebook statuses will help you get in the spirit of the season. Plus, it's the easiest way to delight and/or confuse your followers, depending on how many Halloween references they happen to know. It's a modern way to celebrate a holiday with roots in ancient traditions.
For a bit of context, remember that Halloween celebrations are nothing new. In fact, Halloween has its origins in the Celtic festival of Samhain, which was celebrated by the Celts thousands of years ago in present-day Ireland, according to the website for the History channel. People lit bonfires and put on costumes to frighten off any wandering ghosts, which sounds like a freaking awesome way to pass the time. Anyway, these traditions likely blended with the later Christian holiday of All Saint's Day on November 1, and somewhere along the line the holiday of Halloween emerged, according to Live Science. Although its exact origins may be lost to time, Halloween celebrations are still very much alive and well today — perhaps more so than ever.
For instance, check out the current holiday spending on Halloween. Halloween spending has increased dramatically since 2007, and it topped out at an estimated $8.4 billion in 2016, according to the National Retail Federation. It looks like all those costumes, candy, and pumpkins really add up. Whatever the reason, it seems modern people are into this ancient holiday more than ever before. Something about the costuming, candy, and (let's be honest) booze presents a much-needed opportunity to become someone or something else for a night.
So when you're posting a spooky status to Facebook or Twitter or other media this year, think back to the long traditions that have led to this point. Because of an ancient Celtic festival, you're compelled to post movie, TV, and comedian quotes about trick-or-treating on the computer. Wild, right? Well, keep the tradition alive with a selection of these quotes.