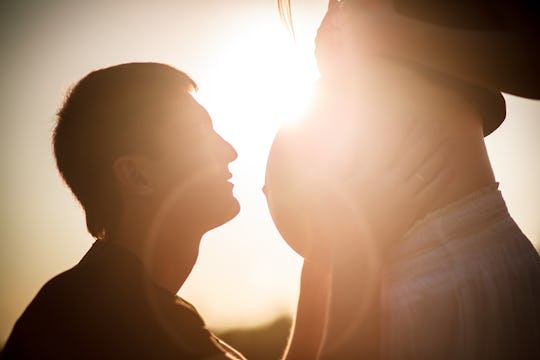 lobodaphoto/Fotolia
13 Dads Reveal What It's Really Like To Feel Their Baby Kick For The First Time
I often think of the unique experience of being a non-gestational parent, particularly a dad who lives with a pregnant partner. While experiencing pregnancy firsthand is incomparably bizarre, it's got to be neat and strange to watch someone close to you go through it. I mean, you're watching it go down, but you'll never really know what the other person's feeling. One of the only pregnancy experiences both partners can feel is the baby kicking, so I wanted to ask dads to share what it's like to feel their baby kick for the first time.
I can still remember the moment I felt my growing baby kick for the very first time (but I can't remember the first time I felt my second baby kick, because that's pretty much the story of second pregnancies in a nutshell). I was on the subway on the way home from work (thankfully, mercifully, in a seat). I was reading when, all of a sudden, there it was. It was faint but distinct, like a little fish flopping around inside of me. It wouldn't be for another few months until I would be able to share that feeling with my partner, and I was so excited for him to share in that moment as well.
But here's something you should know about my husband (something I should have realized about my husband): he's not especially effusive in his emotions. He's the opposite of me in that sense. He's stoic and a little bit brooding and serious. Our marriage is sort of like if Ned Stark from Game of Thrones was married to one of the bubblier characters from My Little Pony. It's weird, but it works.
So when I put his hand on my abdomen to let him feel our baby move, all I got was a mildly amused "Oh." I wasn't hurt or sad, but I felt a little deflated. I had been expecting an emotional reaction like I would have had, but what I got was a reaction in keeping with his personality. So more like this:
I wanted to know what other dads felt when they felt their babies for the first time. Here's what they had to say: