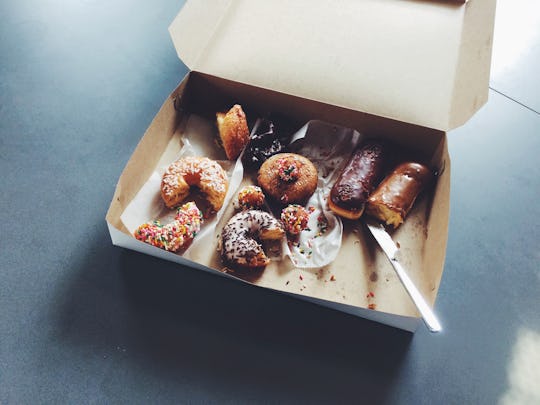 Bethany Newman/unsplash
13 National Doughnut Day Memes To Sweeten Your Celebration
Because it's 2016, you know that you can't properly celebrate any day unless you post about it on social media — especially if the holiday involves food. For National Doughnut Day, that means it's time to fire up your profiles. You're going to need Instagram posts of your treat, a doughnut-themed Snapchat filter, and National Doughnut Day memes to spread out your celebration.
Doughnuts and memes just seem like they should go hand-in-hand, right? There's a doughnut emoji for crying out loud, which means the world of social media really, truly loves some doughnuts. It's like pizza for the sweet-toothed person. Everybody loves to share memes of pizza with a caption like "bae" or "this could be us, but you're not pizza." The same can be said of doughnuts. In fact, I'll give doughnuts all the heart-eyes before I give them to pizza.
Because doughnuts? They're just happy. Whether they're covered in frosting, dotted with brightly colored sprinkles, or simply the best part of your morning, they are instant mood enhancers. And I'm proud to celebrate National Doughnut Day on June 3 (Ideally by scoring a free doughnut.) If you're ready to jump-start your doughnut holiday, here are 13 National Doughnut Day memes that can get your social media ready for the sweet carbs. Don't forget to tag your friends so they can join you for doughnuts and coffee!