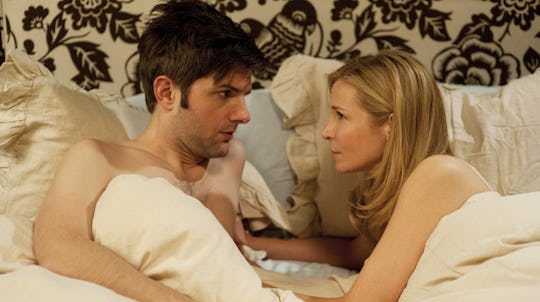 Lionsgate Productions
13 Postpartum Sex Tips For Men That'll Help Ease Their Partner Back Into The Bed
Postpartum sex is a hot topic for new moms, but it's easy to forget about the other people affected by it, like your partners. If you're willing to give your SO a pamphlet on how to hold a baby and show them the best way to change a diaper, then you've got to be willing to share some postpartum sex tips for men.
Men, if you're listening, I get it — postpartum sex is scary for you too. No matter what kind of delivery your SO had, you may be freaking out about the fact that she once had a baby inside of her, the baby is now out, and you're expected to jump right back into sex like nothing ever occurred. There's a huge stereotype that all men are simply chomping at the bit to get back in the bedroom. Women worry that they are letting their guys down by saying they aren't ready, and so many new moms assume that you've got a calendar scratched into the wall, slowly counting down the days until her six week check-up.
But that's not true for every guy. And even if it is, that still doesn't mean you aren't nervous or anxious about having sex with your SO after childbirth. Whether you're wanting some advice on how to make it easier for her or eager to make the entire experience good for both of you, these 13 postpartum sex tips for men will give you what you need.