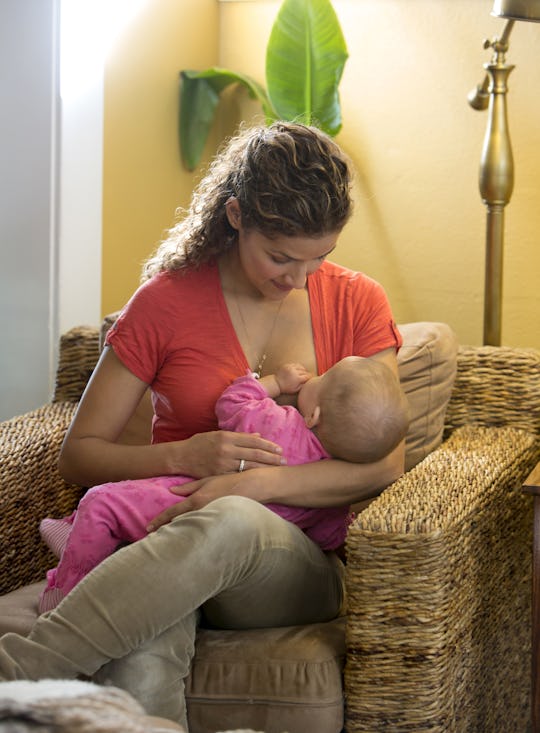 13 Real Breastfeeding Questions On Lip Ties, Vitamin D, & More, Answered By An Expert
Breastfeeding can be a hard, isolating, and emotional journey, which is why it's so important to have support. That's why Romper launched a Facebook breastfeeding community, Breastfeeding TBH — to help make feeding another human being with your own body a little easier. Every day readers ask questions because, let's face it, breastfeeding is complicated, and each week in Rack Facts, Romper speaks with a lactation consultant to answer as many of those questions as possible. After all, everyone can use a little expert help, especially when it comes to feeding your kid.
Social media may be a well of judgement, but it's also one of the best things for a mom, especially those who feel like they have no idea what they're doing. (So everyone, right?) Hashtags like #NormalizeIt and #SometimesBreastfeedingLooksLikeThis have opened up incredible communities and discussions about one aspect of parenting that is constantly making moms question everything — breastfeeding.
Pumping, weaning, increasing a low milk supply, struggling with lip and tongue ties, trying to keep breast milk cold until you can get it to a fridge — all are very real struggles breastfeeding moms can face, and that's barely scratching the surface. People love to judge about breastfeeding, but those who choose not to do it have no idea all that the simple (ha, OK) act of feeding your child entails. To answer some of those tough questions, I reached out to Leigh Anne O'Connor, International Board Certified Lactation Consultant. She has a wealth of breastfeeding knowledge and is a total expert, so check out her Facebook page if you want more tips, tricks, and advice.