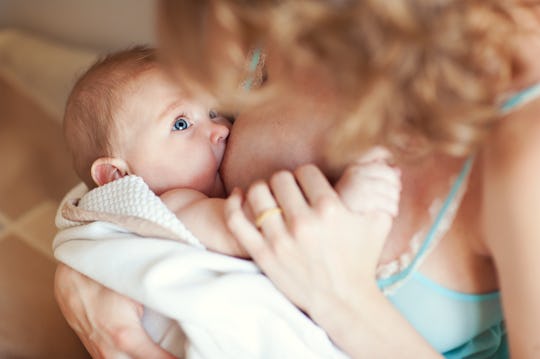 Deksbakh/Fotolia
13 Real Breastfeeding Questions On Smoking, Drinking, & More, Answered By An Expert
Breastfeeding can be a hard, isolating, and emotional journey, which is why it's so important to have support. That's why Romper launched a Facebook breastfeeding community, Breastfeeding TBH — to help make feeding another human being with your own body a little easier. Every day readers ask questions because, let's face it, breastfeeding is complicated, and each week in Rack Facts, Romper speaks with a lactation consultant to answer as many of those questions as possible. After all, everyone can use a little expert help, especially when it comes to feeding your kid.
Living your life as a breastfeeding mother doesn't have to be difficult, but it sure feels that way sometimes. Whether you're worried about what other children will say when they see you breastfeeding or trying to figure out how many beers you can have before nursing your baby, it can be difficult to know if you're making the right choices. When you add in the struggles of motherhood, like trying to keep your baby comforted or struggling with postpartum depression, it's even harder.
But few things are impossible when you're breastfeeding which is why I reached out to Amy O'Malley, nurse and director of education and clinical services at Medela. As a mother that breastfed five babies and former pediatric nurse, O'Malley definitely knows her stuff when it comes to breastfeeding and pumping. In her current role at Medela, she develops education and programs for both mothers and clinicians to share the latest evidence and develop tools and programs to help mothers to initiate their milk supply and reach their breastfeeding goals. You can find more information about breastfeeding and transitioning back to work as a pumping mom at Medela and you can also follow the company on Facebook, Instagram, and Twitter.