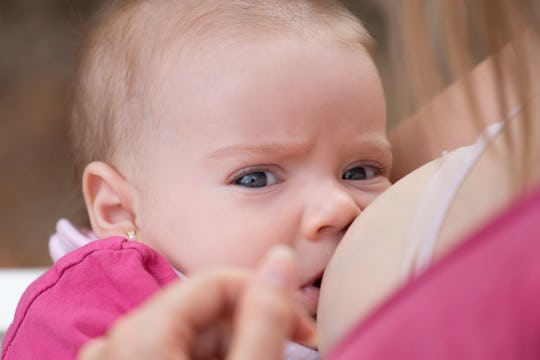 asph/Fotolia
13 Scientific Facts That Will Help You See The Good Side Of Breastfeeding
If you're on the fence about breastfeeding or just totally over it, I get it. Breastfeeding isn't always easy and I think every breastfeeding mother has a moment where she feels 100 percent done and wishes she could just give it up. But there are some scientific facts that will help you see the good side of breastfeeding and remind you why you're doing it for you and your little one.
Let's be honest, there aren't just scientific reasons that make breastfeeding worthwhile. The ease of pulling your boob out instead of prepping a bottle is a major benefit, as is never having to measure out formula, water, or make sure your baby's milk is at the right temperature. But even those benefits don't seem worth it when your breasts are engorged, when your baby is sleeping through the night yet you still have to get up at 3 a.m. to pump, and when you can't enjoy more than a couple of beers on a Saturday night. Sometimes, you need science to make it even clearer why you chose to breastfeed and why it's worth it.
Trust me, I've been there. My daughter took to breastfeeding like a champ, I managed to pump way more milk than she ever needed, and we never had any issues. But I still needed to remind myself of these 13 scientific facts so I could see the good side of breastfeeding. How you nourish your baby is always your choice and, no matter what, you're making the right one, but if you need a little encouragement to keep chugging along at breastfeeding, here are some facts that will put it all in perspective for you.