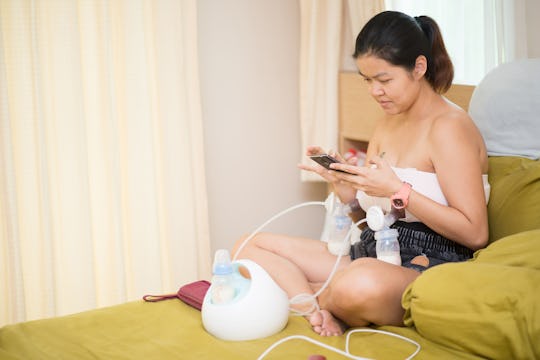 Fotolia
13 Texts All Breastfeeding Moms End Up Sending Each Other, Because #BreastfeedingProblems
In my 33 years, I've made a lot of friends. School and college friends; theater friends; work friends and, eventually, mom friends. There are overlaps among all the aforementioned groups, but one particular subset has easily become the weirdest and most lovely I've encountered: breastfeeding friends. Unlike a lot of my other friend groups, my fellow breastfeeding moms don't have a lot in common outside of being moms and choosing to (and/or being able to) breastfeed. However, like any other group, we band together, bond together, bitch together and, of course, send texts all breastfeeding moms send each other.
Considering I don't have too many IRL mom friends, I really have to thank the internet for providing me with my breastfeeding tribe. Internet, sometimes you suck, what with all the racist memes and ranting uncles on Facebook who don't realize The Onion is satire, but every now and then you really deliver. While many people are perfectly fine not joining a mom group of any kind, for others (including yours truly) finding a mom group is a great way to have a space where, at least for this one particular aspect of your life, you don't have to explain anything. I love being able to say something like, "Went to a party for my son's friend today that started at my daughter's nap time" and not have to explain why it's frustrating and nothing short of a horrific challenge. Making friends with whom you connect, perhaps even initially, on breastfeeding may sound odd, but considering the undeniable fact that nursing takes up a lot of time and energy even under the best of circumstances, having someone who just "gets it" can be really nice.
I'm definitely not inferring that you can't talk about these issues with friends and family members who aren't parents or who didn't choose or where able to breastfeeding. (My kid-free, male best friend has been on the receiving end of a lot of unsolicited texts/phone calls/in-person conversations about my engorged breasts and leaking, bless his patient heart.) You certainly don't have to get weird and cultish about breastfeeding to glean value from joining a community of people based on this one shared life choice. But when it comes down to it, the texts between two or more nursing parents is a truly beautiful thing.