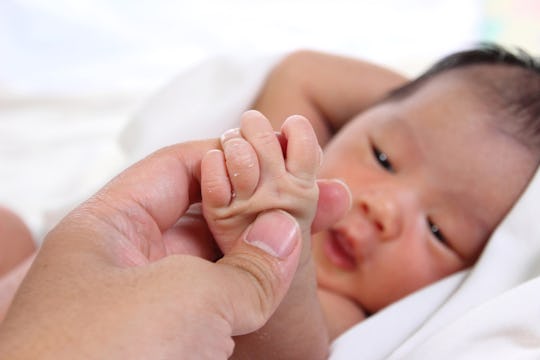 Fotolia
13 Things Every New Mom Sometimes Thinks About Her Kid, But Doesn't Say Out Loud
Being a new mom is a mix of juxtaposing emotions and feelings and incoming information that, well, make it pretty damn difficult to determine if what you're thinking about your life as a new mom is "normal" (whatever that means, because I'm severely convinced that normal isn't a thing). I remember coming home with my son sore, exhausted, scared, elated and confused; unsure of what motherhood was going to be or how I was going to navigate it. I also remember thinking things about my kid I wouldn't say out loud, not just because I was unsure if those thoughts were valid or even real (hormones and exhaustion do some strange things) but because I was, honestly, pretty afraid I'd be judged for them.
When a new mom is inundated with what she "should" be doing as a mother, she can't help but think that she has to adhere to this fictitious standard of parenthood that, I've learned, don't actually exist. I, personally, was convinced that there were certain things I had to do as a new mom if I was going to be a successful parent that would eventually raise a well-adjusted and kind adult. I thought I just had to breastfeed, so I powered through the act even though, as a sexual assault survivor, it was a trigger. I thought I just had to absolutely love every single aspect of motherhood, so I started feeling guilty and faulty when there were certain parts I, in fact, didn't like. It took me far too long to realize that motherhood is what you make it, and as long as you're keeping your baby (and yourself) safe and healthy and happy, you're doing motherhood right.
Which is why, if you've found yourself thinking these things about your kid, you're not alone. Here are a few things I (and I think every mom) thinks about her baby but doesn't say out loud. Consider this my "I thought these things" coming out party. Cheers!