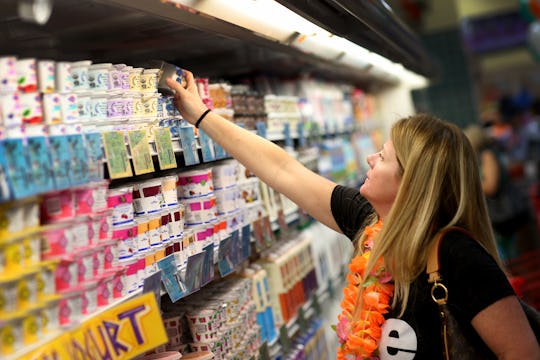 Joe Raedle/Getty Images News/Getty Images
Good Luck Getting Your Toddler To Share These Snacks From Trader Joe's With You
Toddlers aren't the easiest creatures to deal with. They're adorable, of course, but they can also be wildly stubborn and willful. In my experience, nowhere is that more evident than at the kitchen table. Convincing my busy toddler to slow down and eat is sometimes a battle, but there's one store that usually gives me the upper hand. There are so many delicious toddler-approved snacks at Trader Joe's to choose from that my daughter and I always find something we're both excited about.
There are a couple of staple items I always pick up for my kiddo (and myself) whenever I'm at Trader Joe's, but I took to social media to get even more snack recommendations. I got tons of enthusiastic responses from parents, all of whom said that trips to Trader Joe's are usually high on their to-do list. Based on their glowing reviews, I introduced my daughter to even more TJ snacks that were pretty much all hits. And with the store's generally reasonable prices, I could afford to try new things without feeling like I would end up wasting a ton of money if they didn't work out.
Here are 13 yummy snacks that even the pickiest eater will want to try.