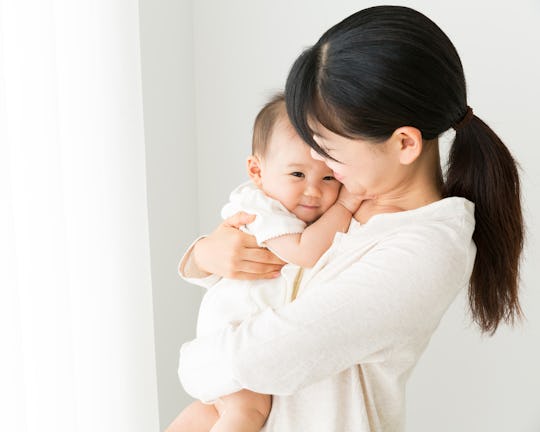 Takayuki/Shutterstock
These Love-Inspired Baby Names Are Perfect For A Valentine's Day Delivery
What's a better gift to a pregnant woman on Valentine's Day than diamonds, chocolate, flowers, and a nice dinner? Popping out that baby, of course. Forget diamonds — not being pregnant anymore is a girl's best friend. If it looks like your special Valentine's Day gift from the universe is having your baby, you may want to commemorate the event by checking out some baby names for babies born on Valentine's Day. You know, just in case your Feb. 14 is really one to remember.
And what better number for a Valentine's Day list than 14, the day of love itself? And even cooler — the holiday started around the 14th century. However, I was today years old when I learned that Feb. 14 was originally a pagan fertility ritual until the Pope abolished it and proclaimed it Saint Valentine's Day on the Catholic Calendar of Saints, according to History.com. I mean, I've heard of the Saint Valentine story, but definitely never heard of the fertility ritual. Those Catholics and their secrets.
But now we celebrate Valentine's Day as a day of love and celebration of romance. (Not necessarily fertility.) And if you love this holiday (or the fact that your baby was born on this holiday), these baby names for babies born on Valentine's Day may give you some lovely inspiration.