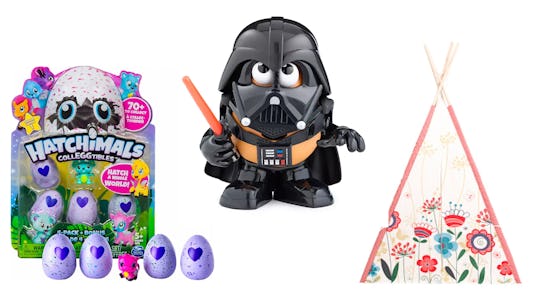 Best Buy; Kohl's; TJ Maxx
14 Gifts For Kids That Will Make Every Lazy Mom So Happy This Year
It's no secret that the holiday season is the literal definition of chaos. There are trees to decorate, cards to send out, and cookies to bake. (Remember, Santa needs his nighttime snack.) And when it comes time to the dreaded task of shopping, you might be wondering what are the best gifts for kids that make lazy moms happy. But first, let's look at what that even means.
Basically, a self-proclaimed lazy mom probably doesn't want to deal with hoards of parents climbing on top of each other to find specific toy. Ain't nobody got time for that, right? A lazy mom loves to play with her kids, but wouldn't mind letting little ones find ways to entertain themselves. She's also not about that Pinterest life, because honestly, everyone can't be Martha Stewart. Oh, and nothing makes a lazy mom happier than seeing the words "No Assembly Required" on a package.
Maybe you're totally that mom. Or perhaps you are gift shopping for kids of said mom, and you're stuck on what to buy because no matter what, you don't want to create more work for the mom. With these 14 ideas, lazy moms everywhere will breathe a sigh of relief. Before you know it, shopping for the holidays won't seem that bad after all.