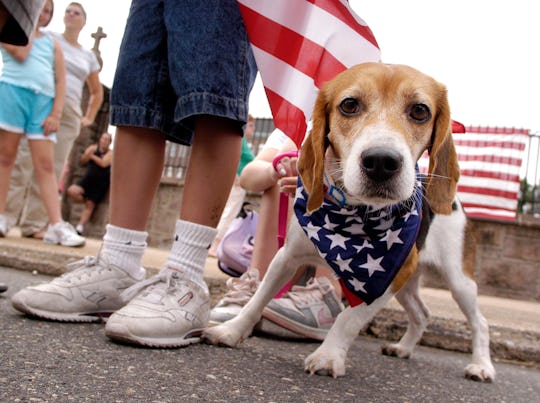 William Thomas Cain/Getty Images News/Getty Images
These Perky, Patriotic Dog Names Celebrate All The Best Things About July
Summer is a time we traditionally associate with hot dogs, but it can be even better when we have a real dog by our side. If you happen to be considering bringing a pup into your home during our country's birth month, there are some fun names for dogs born or adopted in July that make for a natural fit.
There are some pretty compelling reasons for welcoming a dog into your life during the (ahem) dog days of July. Animal shelters become overcrowded in summer, according to the Cincinnati Enquirer and other sources. In addition to dogs surrendered by their owners, some escape their yards or slip away during family trips. With the kids out of school and vacation days accumulating, there's more time to spend bonding with and training a new dog. The good weather also lends itself to long walks, games of fetch in the park, and a cooling splash in the surf at beaches that welcome pets. Let's not forget those backyard barbecues, either — you'll always have someone there to take care of the burger that accidentally falls on the ground.
For a dog born in July, the easiest option is to think patriotic. There are enough Founding Fathers of the U.S. out there to name a whole herd of pups (not to mention notable female figures like Abigail Adams). But there are other July-appropriate monikers that would suit a pet, as well. Here's just a sample of the names you could try, depending on which ones ring a (liberty) bell with you.