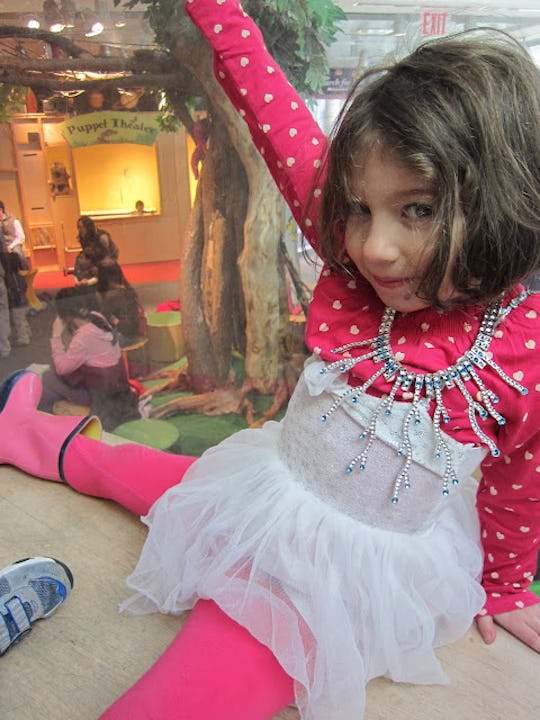 Courtesy of Liza Wyles
14 Moments When Letting Your Kid "Be Independent" Is A Total Sh*tshow
My 8-year-old daughter has been dressing herself since she was 2. As a toddler, she had the whole "blinged-out clown" look on lock. Whenever I felt eyes upon her at the playground or supermarket, I was quick to throw her under the bus: "She picked out her own outfit." I was not about to be held responsible for how ridiculous (and admittedly, quirky-cute) she looked. But more importantly, her mix-matched fashion sense was a symbol of the independence she craved, and I knew I just had to let it go.
As much as it pains (and embarrasses) me to let my kids forge their own paths, I know these tiny independent wins are essential to their growth. Sometimes, though, their insistence to "do it myself" goes off the rails. The more I let them do themselves, the more it seems I have to clean up afterwards.
The first time they feed themselves is the initiation to this colossally messy and time-consuming practice of guiding kids towards becoming self-sufficient. Yes, it would be so much easier, so much cleaner, if we, as parents, would just do everything for them. But we have to fight that urge. Even if it grosses us out, which it often will.
The fact is, encouraging and supporting our kids as they becoming fully functional, independent humans is more frustrating and maddening than you might think. "You mean I'm going to have to fight with myself not to do things for them?" – pre-kid me, who couldn't fathom a world where doing everything for someone else actually made things easier. But as any parent who's ever seen a toddler work themselves into a full-on meltdown after making the whole family late to leave the house because they had to do the buttons themselves knows...it's so real. Here are some stellar moments when letting our kids "be independent" is a total sh*tshow.