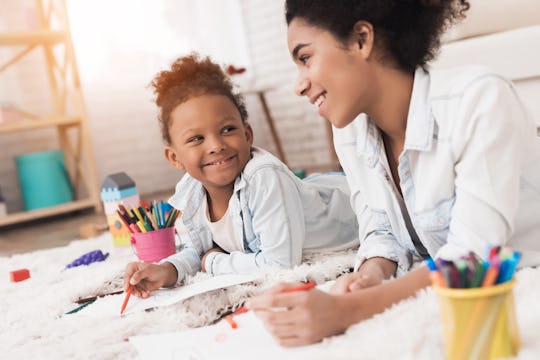 Shutterstock
Here Are 14 Pros & Cons Of Homeschooling, Because There's So Much To Consider
Being a parent means making a million and one decisions for your child, and one of the most important ones you'll make is about their education. You've got the natural worries that come with releasing your little one "into the wild," and you're determined to give them the very best... but is that public school? Private school? Homeschooling? If the third is on your radar, it can be helpful to hear about the pros and cons of homeschool, from people who have experienced it themselves.
No matter what your reasons for considering homeschooling, you certainly are in good company. Between 1999 and 2012, the amount of children being homeschooled rose by 850,000, according to the U.S. Department of Education. The reported reasons for homeschooling varied, including a desire to incorporate religion, fears over the environment of local schools, and special needs of the child. The "2017 Schooling in America Project," developed by EdChoice and conducted by Braun Research, Inc., found that 3 percent of children in the U.S. were homeschooled.
My husband and I welcomed our daughter in April, and she's about to turn four months old. I've already shed tears at the thought of her leaving me and going to school one day. Scary events on the news have even led me to announcing, through tears, that she is never going to school! But what would that actually look like? As a proud product of public school myself, I couldn't tell you. That's why I'll defer to those who have walked the walk.