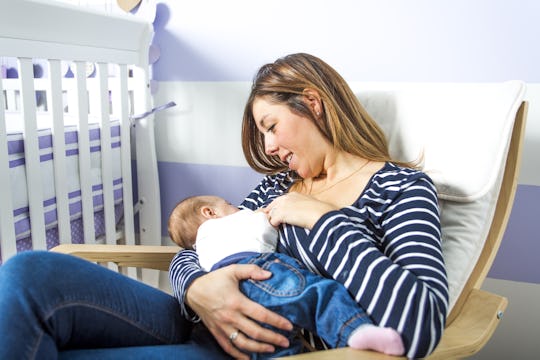 pololia/Fotolia
14 Real Breastfeeding Questions About Flow, Fussy Babies, & More, Answered By An Expert
Breastfeeding can be a hard, isolating, and emotional journey, which is why it's so important to have support. That's why Romper launched a Facebook breastfeeding community, Breastfeeding TBH — to help make feeding another human being with your own body a little easier. Every day readers ask questions because, let's face it, breastfeeding is complicated, and each week in Rack Facts, Romper speaks with a lactation consultant to answer as many of those questions as possible. After all, everyone can use a little expert help, especially when it comes to feeding your kid.
They say most of parenting is relying on your instincts, but I think all moms can agree that sometimes our intuition seems faulty, especially when it comes to breastfeeding. When I was in the recovery room after giving birth, the nurses brought me my daughter and asked if I'd like to try nursing her. "Um, sure," I said. The nurse smiled, handed me my daughter, and walked to the other end of the room. "I'm not sure how though," I whispered, worried that she was going to roll her eyes and lecture me on being unprepared to have a baby. Instead, she smiled and said, "Just give her your breast. Let's see what happens."
I know not every breastfeeding journey starts as easily as mine, but even I had apprehensions as time went on. Did my daughter have a good latch? Was she getting enough food to eat? Should I be watching my diet? Was she crying because of my milk?
No matter how breastfeeding is going for you and your baby, whether you're having a great time or struggling, every mom has questions. To answer some of them, I spoke with IBCLC Lisa Fortin from My Milk Matters and Janice Campbell, lactation consultant at South Nassau Communities Hospital, to give you the expert advice you're craving when you're worried that your intuition isn't enough.