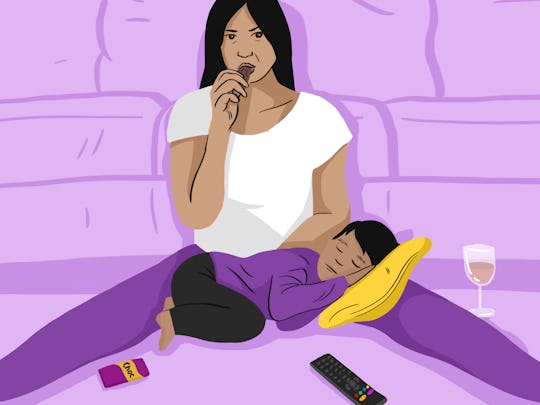 Claire Joines/Romper
14 Thoughts Every Work-At-Home Parent Has When Their Kid Is Home Sick
It's early on a weekday morning, and as you're running around the house preparing your kid's lunch (and yours) for the day, they come up to you. Their cheeks are flushed, and they look up at you with dilated eyes, and it's clear that they're not going anywhere today. Which means neither are you. They're missing school, and you're about to be missing work. Missing work when your child is sick can be a bit of a mixed bag.
If you're lucky (or unlucky, depending on your opinion of the situation) enough to be able to accomplish much of your job from home, then you have to figure out how to get that work accomplished with a possibly demanding kid lying nearby. I'm not actually sure which is worse: having a kid home because they're just sick enough to be kept home (hello, fever of 101 degrees), or having a kid home sick because they're actually very sick and you are considering a trip to the clinic or worse, the hospital. Don't worry, I do know that the latter is worse; I'm not completely heartless.
I am, however, someone who has been stuck at home with a child who barely has a fever, and spends the whole day asking if we can play the Candyland Train game. Like, I'm sorry you're sick, dear lovely child of mine, but I'm even more sorry that if we both have to deal with you being sick, you aren't even going to be the "lazy, sleepy" kind of sick. For the most part, if you're lucky, being home with a sick kid just means being home with your normal kid, except they are a little crankier, a little more demanding of your attention, and you're a little more stressed because of all the things you would be doing if their body temperature were half-a-degree cooler and they could go to school.
There. That's the truth. Think of me what you will. You know I'm right.
Like I said, it's a mixed bag. Here are all the thoughts parents typically think when they're trying to get some work done at home while they're kid is out of school sick: