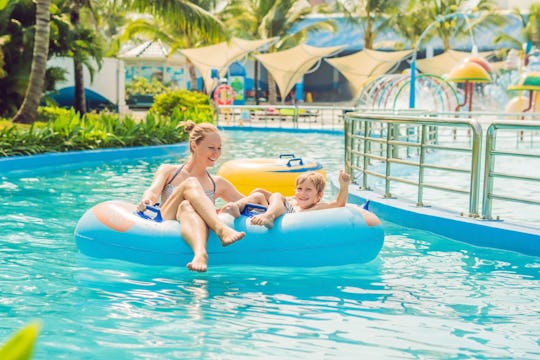 Elizaveta Galitckaia/Shutterstock
Here's What Pediatricians *Really* Want You To Know About Water Parks
Summer is upon us, which means families everywhere are gearing up for all kinds of fun summer activities. Camping, the beach, and of course, a summer favorite — trips to the water park. While water parks are fun for both kids and adults, and it's certainly a great way to keep the kids cool (and out of the house) on a hot summer day, there are some water park tips from pediatricians that parents should be aware of when it comes to keeping kids safe this season.
I checked in with Chief Medical Officer of Hazel Health, Dr. Rob Darzynkiewicz, pediatrician Dr. Brian Nguyen of Dignity Health Medical Foundation, and Dr. Dean Jacobs of MemorialCare Medical Group to see what parents need to be on the look out for when they visit the water park. Most of these tips may seem like common sense, but sometimes it helps to understand the reason behind rules. While it might be obvious why we have rules such as "don't pee in the pool," did you also know that chlorine doesn't kill all germs? Understanding the reasoning behind these tips may help you enforce the rules and help your kids understand them so they're more likely to follow.
Water park injuries and illnesses are also quite common, so you need to pay attention. Dr. Nguyen says some of the most common water park injuries and illnesses that he sees in his office include, "heat exhaustion, dehydration, recreational water illnesses (most commonly diarrhea), rashes, acute otitis externa (swimmer's ear), scrapes/cuts, bruises, and a variety of musculoskeletal complaints like sprains or fractures. Although rare, concussions and drowning incidents can and do occur as well." If you're already freaking out and rethinking that trip, don't cancel your plans just yet. The expert tips below will help keep your family safe so you can enjoy the water park with as little stress as possible — when you're a mom, anyway. Don't forget the towels.