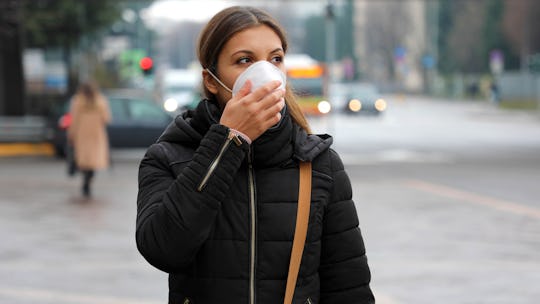 Shutterstock
15 Face Masks You Can Buy That Will Also Benefit Those On The Frontline
As the imminent arrival of COVID-19 hung over the United States, many people began to panic and started ordering as many face masks, both medical and non-medical, as they could. The CDC was quick to issue a statement that this wasn't necessary, but flash forward to over a month later, and the government has changed their tune: the CDC is recommending that everyone wear a face mask in public to slow the transmission of COVID-19. But you can buy face masks that support a hospital or charity, and make a difference for yourself and our healthcare heroes.
Before you start purchasing, though, there are some things you need to know. The CDC and doctors everywhere want everyone to know that cloth face masks are absolutely not a substitution for social distancing. Even if you and the people you are with are all wearing face masks, it's still imperative that you stay at least six feet away from each other as this is the better way to prevent transmission.
Cloth face masks will help slow the spread of COVID-19 if they're worn by someone who is showing symptoms or someone who has COVID and is asymptomatic — in other words, they don't even know they have it, but they are spreading it to others around them. They may help prevent droplets that could carry the virus from one person to another. However, cloth face masks are not medical-grade (they are not nearly as protective as the N95 masks you've probably heard of). They are not guaranteed to work, and that's why social distancing is still important.
The other thing to know is that healthcare professionals across the country still need more PPE. So, if you can afford to buy a mask, you should strongly consider buying one from a brand that is going to donate masks or money to hospitals or charities. You'll get something to protect yourself, and you'll be giving back in the process. Remember that most of these companies are making these in real time, so you may have to wait a few weeks before you receive yours.
We only include products that have been independently selected by Romper's editorial team. However, we may receive a portion of sales if you purchase a product through a link in this article.