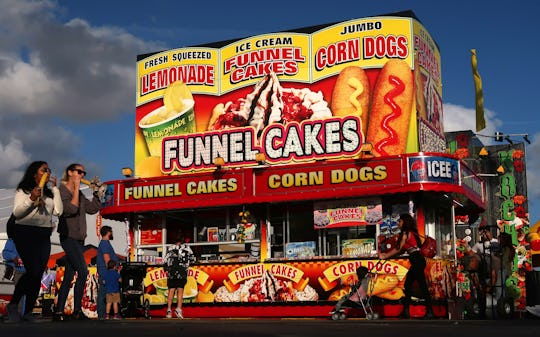 Gary Hershorn/Corbis News/Getty Images
15 Fair Food Recipes To Make At Home This Summer, Because *Nostalgia*
Since it looks like state fairs won't be a part of your memories for summer this year, you may want to bring the fair to you in the way of munchies. This list of fair food recipes you can make at home will give you a wave of pure nostalgia, and they're so delicious, you won't even miss the ferris wheel or the other questionably safe rides at the fair. It's really a win-win. Plus isn't the food the best part about the whole fair experience?
It seems the fair food experience requires a lot of deep fried, well, everything. If it's something edible, you can and should deep fry it, apparently. I remember one New Year's Eve celebration I attended at a friend's house and they had a deep-fry party. We tried everything from fried Twinkies to fried celery. Yes, celery. That was pretty gross and that's definitely not on this list.
But even if some of these other fried fair foods below seem a little out there, they're popular for a reason. Because America, and because they're so insane they're actually delicious. And as you're working through this list and you're deep frying Oreos and cheesecake balls, please make sure you have your fire extinguisher close by. Don't forget to win a stuffed animal for the night just because.