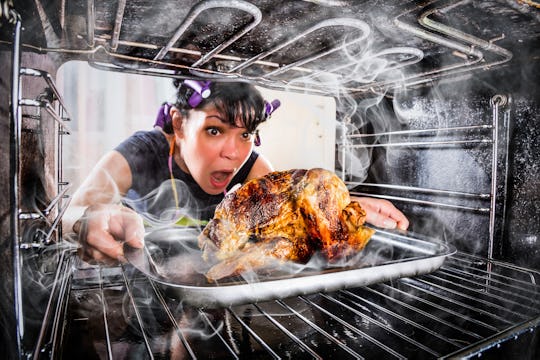 Andrey Armyagov
15 Funny Thanksgiving Fails That Would Never Happen To Martha Stewart
Thanksgiving is right around the corner and with it comes ultra-perfect expectations for the day. You'll cook up a four course meal, every dish expertly crafted. Your kids will behave perfectly and won't spill anything or pull any of the tablecloths off of your immaculately set tables. Your relatives will gather and laugh over shared interests, never a political debate to be heard. Or, you'll host a festive dinner on planet Earth like everyone else and you'll find yourself relating to more than one of these funny Thanksgiving Day fails in the spirit of camaraderie and gratitude. Really, there's no way to prepare for the holiday than to acknowledge the disasters of years before.
It's no surprise that, more often than not, large family gatherings result less in "perfection" and more in chaos and hilarity than anything else. Whether just to get a good laugh, or to embarrass their non-social media savvy great aunt (also to get a good laugh), people took to Twitter last year to share some of their most memorable #thanksgivingfails and, the results are hilarious and oh so easy to relate to.
No matter if you're the type of person that has their Thanksgiving agenda planned to the last stuffing and casserole, or you're more of a "wing it" type of Turkey Day planner, these fails will go you hope. Even if your Thanksgiving doesn't go as planned, at least it won't be as bad as these poor, thankful souls'.