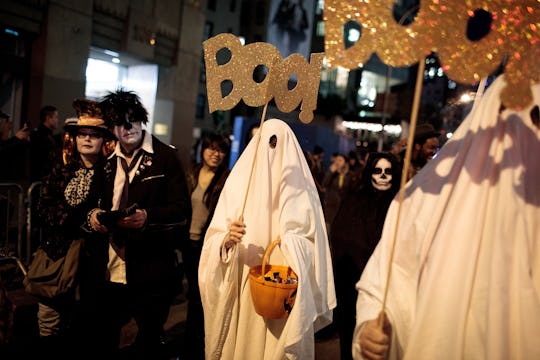 Drew Angerer/Getty Images News/Getty Images
Get Yourself In The Halloween Groove With These Spooky, Silly Quotes
With Halloween just around the corner, creative juices everywhere are pumping. After all, is there any other holiday that ignites the imagination quite like All Hallow's Eve? But without the right words, your killer project might just end up falling flat — so I've compiled 15 Halloween quotes to incorporate into whatever plan you're hatching. Because a picture may be worth a thousand words, but you shouldn't have to choose between one or the other. Whether you're sewing handmade costumes, carving elaborate jack o' lanterns, painting decorative items for your home, or planning an epic bash, October is the perfect time of year to try something new.
Whether you're going for a vibe that is seriously spooky, something more kid-friendly, or even looking for a little bit of comedy to throw into the mix, there's a quote here to meet any of your Halloween needs. You might find that the hard part is narrowing down your options out of so many good ones.
So pull out your craft supplies, pour yourself a mug of hot apple cider, and turn on your favorite scary movie while you work, because these Halloween quotes will definitely get you into the spirit of the season.