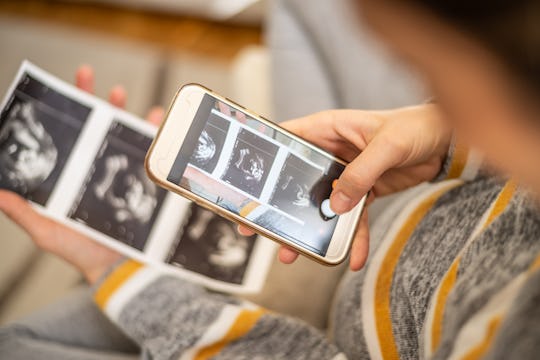 SanyaSM/E+/Getty Images
These 15 Sweet & Funny Instagram Captions Are Perfect For Your 1st Ultrasound Pic
The rush of joy that comes when you find out you're going to be a parent for the first time is nearly indescribable. You will need to find at least a few words, however, to describe your excitement in the form of an Instagram caption for your first ultrasound pic to let your friends and family know just how thrilled you are.
Posting an ultrasound picture to Instagram without a caption might leave your followers just a bit confused, so having a caption when you post that first ultrasound photo is absolutely crucial. Even if you've already announced your pregnancy and are just wanting to share the first ultrasound with the world, you probably still want to add a few words to your post.
Because your first ultrasound picture gives you a grainy glimpse of your precious little one growing right there inside of your belly, posting it on Instagram is the first of many proud parenting moments many people take full advantage of. Is there a better way is there to let the world know that you've created your very own mini-me? I highly doubt it. Whether you stick with something traditional or choose to make the experience of posting the ultrasound of your soon-to-be-born babe a humorous one, these Instagram caption options for your first ultrasound pic have you covered.